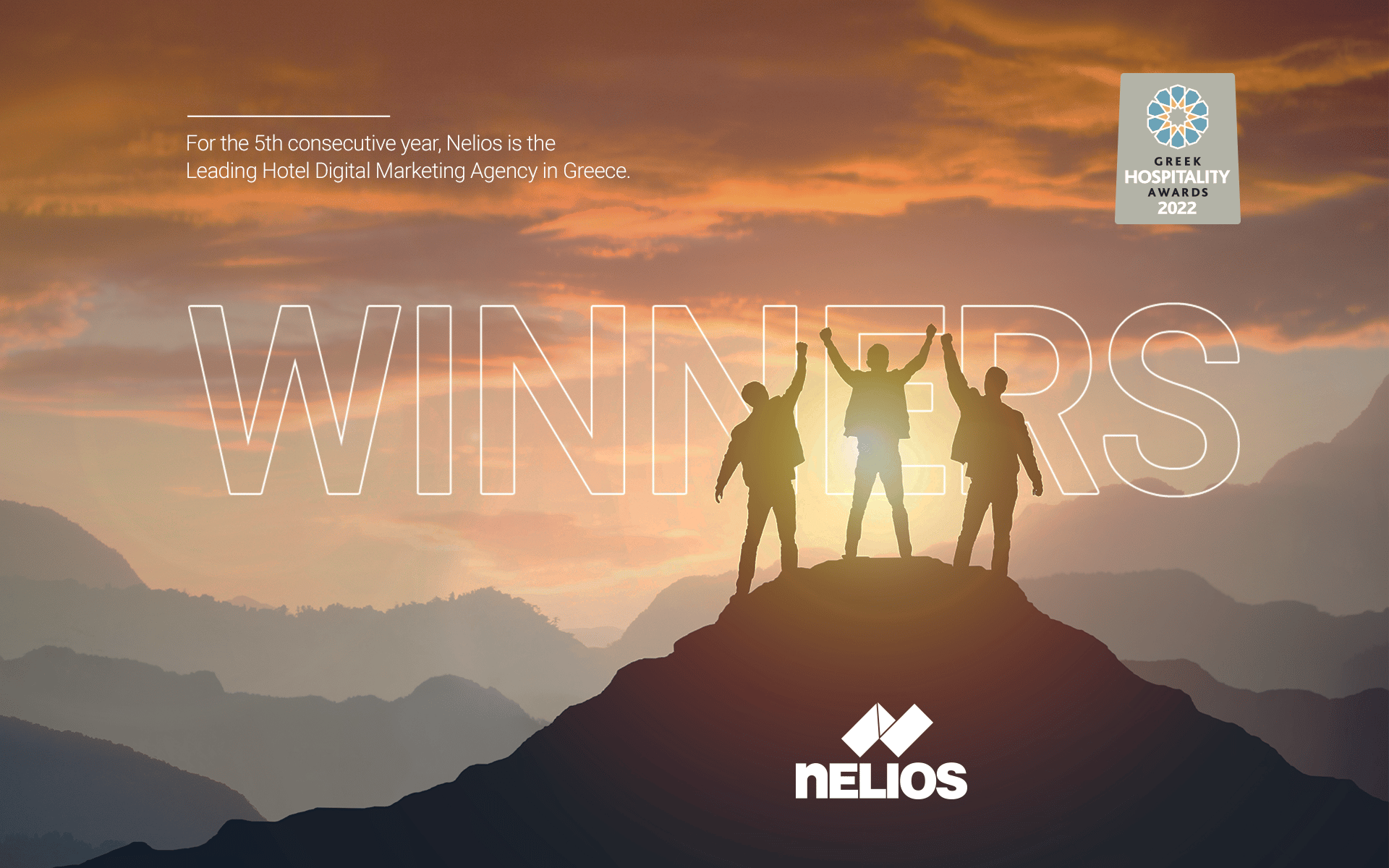 At the Greek Hospitality Awards 2022 ceremony organised by Ethos Media on October 21st, Nelios shined as the only agency being awarded for the total scope of its services.
---
Accepting four awards in total, Nelios stood out as the Best Hotel Digital Marketing Agency for the 5th consecutive year in a row, receiving the Gold award for this category once again.
Nelios Awards at GHA2022

Gold: Best Hotel Digital Marketing Agency
For 5 years in a row, Nelios has rightfully claimed top place as a market leader for its 360 approach and solid understanding of the digital path required for successful hotel and destination strategies, even through the hardest years for the tourism and hospitality industry due to the recent pandemic that gravely affected not only holidays but our daily lives in general.
Gold: Best Hotel Website Developer
For 4 years in a row, Nelios' efforts for developing conversion optimised websites for hotels makes headlines. Through our 14 years of experience, we have the luxury of dealing with large volumes of data, allowing us to identify crucial user behaviours pertaining to website performance and deliver the perfect balance between aesthetics, user experience and conversions.
Gold: Best Hotel Website
For one of our most recent and most favourite projects to see through, for the website of Electra Hotels & Resorts group. It was a delightful challenge to pull off, making it a benchmark for hotel group websites more on which you can find out here.
Silver: Best Digital Advertising and Performance Campaign: AKS Hotels
After 7 years of collaboration with AKS Hotels, we have managed to deliver an excellent ROI conversion between spend and revenue earned from our digital advertising strategies, with the greatest success being the change of culture we have seen at national level, whereby Greek holidayers are increasingly confident about booking long stays through online channels.
All the above distinctions are continued evidence that what we have dedicated ourselves to, for the last 14 years, renders tangible results that bring with them industry recognition. Our contract renewal rate continues to remain in the highest percentiles, at 96%, which is our own internal way of measuring our success and the trust that our clients place within the capable hands of team Nelios.
We wish to thank every individual who participated in the work involved for each one of these awards, since it was, as always, a team effort. And you never change a winning team, do you?
Stay tuned for more exciting things coming to our portfolio soon!